You may be adding a second domain because you have multiple which you use in different markets, or you are changing your domain name. With COREyou can have any number of domains pointed at your CORE website.

Adding an additional domain to CORE is a multistage process.
Add the domain to CORE using the instructions below
We will process your request the next business day and add it to our DNS servers.
Change DNS servers.

To begin the process, add the domain to your account
Log into CORE and click on the website tab. Then click on add/remove addresses.


Type in your domain name in the new address box then click on add address.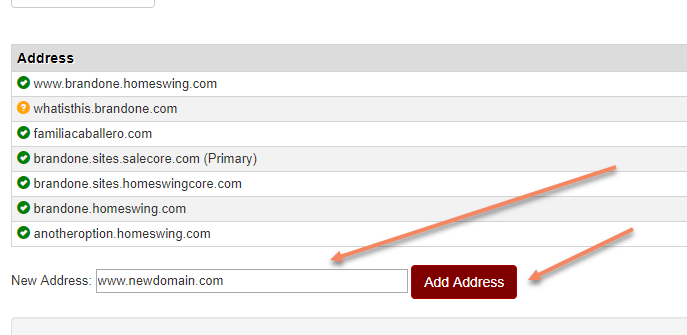 After you add your domain name, then you can select which domain you want to be the primary by selecting "make primary". 

DO NOT make this update until the domain has

next to it, as that indicates the DNS settings are correct.