Short answer. Very important.
Simply put, every agent must have their unique MLS ID on their agent profile. Failure to have your MLS ID on your profile means listings will not come over from the MLS and they will not show in CORE, on the company website or the agent website.
Instructions for adding the ID are listed below.
An agent can add/update their own id as well as any system administrator.
Log into CORE and click on the Settings tab, then click on My Settings.
Once in My Settings, on the left hand side of the page you are going to click on Your MLS ID.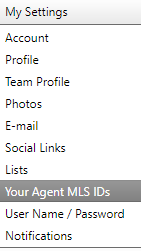 You have 2 options here. You can either add your MLS ID to your Profile if you already have your ID by selecting the MLS system that you belong to. Add your MLS ID to the box and then click on Add MLS ID. (Make sure if you copy and paste that you hit the space bar or the add MLS ID button will not highlight to add.)

If you do not know your MLS ID then you can use the look up tool that we have. To look up your MLS ID you will have to have a MLS Listing number in your name and type in that number in the box under Look Up MLS ID and add the number too Listing MLS ID. Click on Lookup my MLS ID and the system will find your MLS ID for you. Take that number and repeat the steps above to add your MLS ID to your profile.

Once you have added your MLS ID to your profile, your page will look like this and your listings will come over from the MLS.